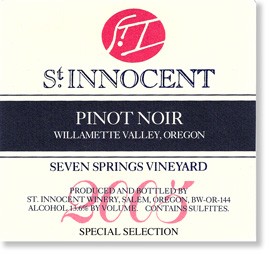 2005 Pinot Noir Seven Springs Vineyard Special Selection 1.5L
Appellation
Eola-Amity Hills
Vineyard Notes
Seven Springs Vineyard overlooks the fertile Willamette Valley from its position in the hills west of Salem. Growing on a steep southest slope, the vines are protected from maritime winds by a fold in the hills. The vineyard blocks were planted in 1982, 1988, and 1992 on Jory soil (a shallow cay over fractured rock) at an elevation of 400'.
Production Notes
Release Date: Sep 2007; Production 98 cases
Food Pairing Notes
This Pinot Noir compliments foods with rich, earthy, or wild flavors - lamb, venison, and wild mushrooms.
Winemaker Notes
Vintage Notes: Although moderate in temperature, 2005 was the coolest vintage of the last six years. It got off to a very early start (March bud break), but the weather turned cool and rainy in late May and June, leading to a late bloom and reduced crop due to poor set. A warm and dry July and August followed. Fall was cool and it rained significantly late in September. Although most winemakers fear rain just prior to harvest, in Burgundy they say a good rainstorm in early September is a basic ingredient of a great vintage. 2005 was a classic example of fall rains providing balance to the fruit after a dry summer. There was almost no damage to the fruit from splitting or rot, and harvest followed in dry conditions over the next few weeks. There is significant excitement and pleasure over the quality of wines produced in this unusual vintage. The wines are well balanced and have moderate alcohol, good acidity and supple tannins.