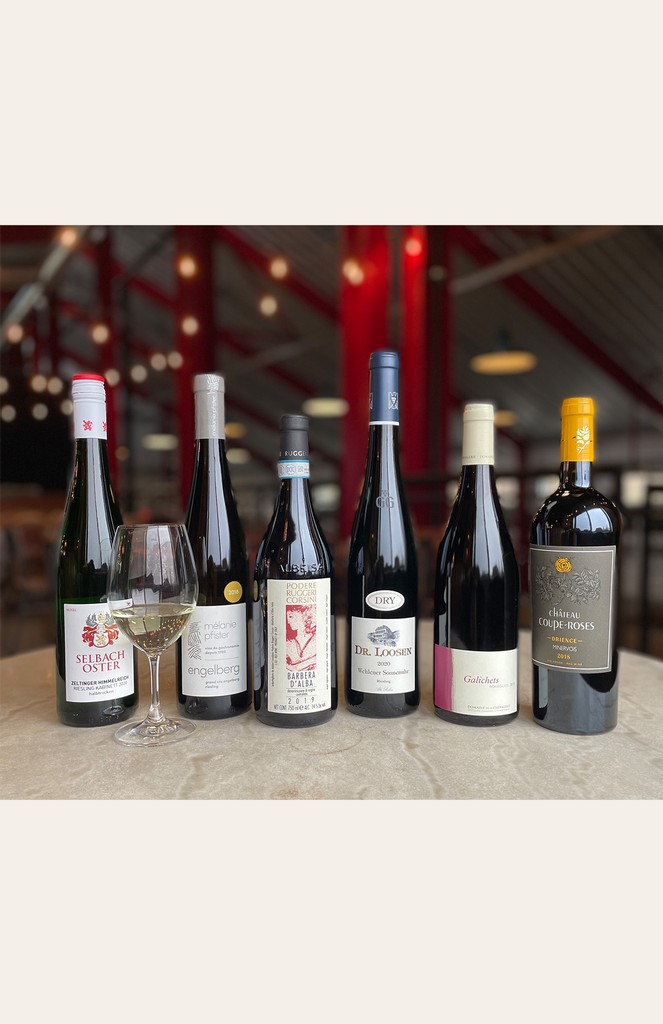 Vintage 59 European Collection
Three of the wines are from diverse regions and grapes that Mark adores:
Chateau Coupes-Roses Orience is produced in Minervois, SW of Provence. It is their Prestige wine, mostly Syrah, which is unusual in that region, hearty and fabulous with grilled lamb.
Domaine de la Chevalerie Galichettes, is an engaging Cabernet Franc from the Loire Valley.
Poderi Ruggeri Corsini Barbara d'Asti, from Piemonte, is one of Mark's favorite food wines from Italy.

The other three wines are Rieslings- none are boring, sweet mouthwash. These are examples of three exceptional styles of Riesling, all from Grand Cru vineyards and from extraordinary winemakers.
Domaine Pfister Grand Cru Engleberg is from Alsace, made by Mark's friend Mélanie Pfister and made in a completely dry style. Mark loves Alsace Riesling.
Dr. Ernie Loosen's GG Wehlener Sonnenuhr is from the Mosel. It is produced from very ripe grapes with zero botrytis. The wine is finished dry and aged in 2000 liter oak casks for 2-3 years. This style is very hard to find in the US. GG or Grosse Gewachs is a term of distinction used for dry, single-variety wines from the best vineyards in Germany.
Selbach Oster Zeltinger Himmelreich Halbtrocken. Mark says his Riesling is a humble example of this style- picked early with high acidity and low sugar. Moderately botrytized grapes are fermented just shy of dryness. This is a Grand Cru vineyard and very old vines. Mark's, not so much.